Step by step AccessDiver tutorial. this are only made for Athena and Energy. This tutorial is for complete beginners. I want to . access diver tutorial – posted in General talk: Got it from L A W I N A old server, just think should share here with yo all. Even though i didn't. Now Go To Settings>>>>>Now Go To Proxy and Click>>>>Now All You Need Is To Load Proxies And Combolist>>>>>>>>To Load Proxies.
| | |
| --- | --- |
| Author: | Mikagami Kazralar |
| Country: | Serbia |
| Language: | English (Spanish) |
| Genre: | Spiritual |
| Published (Last): | 28 October 2006 |
| Pages: | 43 |
| PDF File Size: | 2.67 Mb |
| ePub File Size: | 17.53 Mb |
| ISBN: | 384-7-93416-147-8 |
| Downloads: | 72909 |
| Price: | Free* [*Free Regsitration Required] |
| Uploader: | Taunos |
Then highlight and tutorisl any proxies that have any question marks in the "level" column, have a "NO" in the anonymity result or display a proxy judge error.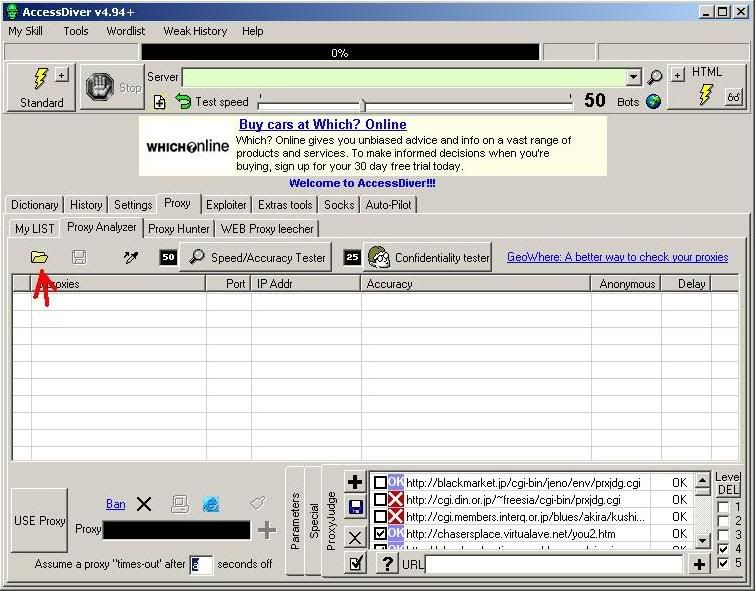 Now, in order to load your proxy list, you will need to click on the icon on the left the one that looks like a folderand then simply go to the directory which you saved your proxy list in, and choose your list and click " Open ". I want to describe how AD should be set up and how to use it. Now, if you want, you can re-check all the proxies that are timed out or not found, just to make sure they don't work.
Now the proxies are ready to go. Next time it won't take so much time. Now, once again select all the proxies. The higher the number of bots, the faster the attack, but you don't want to overload the server or the attack is useless. Copy a list of proxies into a text file, and remember, you need as many as possible; about 10 is a good place to start.
Just choose another proxy from "My List" menu and try again. Please log in to reply. This will highlight all the proxies and repeat.
access diver tutorial
Now, click on the 2nd tab " Search "check the " Use this feature during a search " option and use the following values: Go to where u saved it. Right click and choose "remove duplicates". Well, there are plenty of other more advanced functions in Access Diver, but hopefully this tutorial has given you enough information to get started. In the upper frame you see the current combos being tried and the current proxies.
The first time you run Access Diver, make sure to set it to "Expert" mode by pressing F4. This tutorial is for complete beginners. After you have copied the site's members' url, make sure that everything is set correctly; the word list has to be loaded, your proxies have to be checked, and double-check on your settings.
Remember me This is not recommended for shared computers. I've forgotten my password. Just click on the check mark to remove the check mark. Save them as a text file. I am on cable and find most sites i can run at 50 bots.
When you know from what you wanna leech, go to this menu:. Ok, now that you have a list, enter the " Dictionary " tab, and then click on the big " Load a combo file " button, and load your word list.
Using it in this way may tutoriap illegal in your country of residence, and may result in criminal prosecution. However, if the number of working proxies doesn't stabilise, something is wrong. Once again select all your proxies, and then click on the "Confidentiality tester". On the left side are server's responses.
Now click on the small " ProxyJudge " tab and check 4 and 5.
access diver tutorial – General talk – Students Hang Out
Right click as shown below and select "Verify all scripts". When done, right-click over proxies and choose "Delete everything non-operational and not anonymous".
If you don't get responses, your attack is not being successful. If a pop up appears it will tell you which pj is not working at this time and suggest u delete it. Have a nice time. No replies to this topic. Check if the url is correct. Now, we need to see what else we can find out about this website.
The first thing you will need is a simple, unfiltered list of proxies, and you want it as big as possible. I usually accessdiveer a site or forum that posts poxies.
And finally in the bottom frame are our most wanted HITS: AD finds them working but they aren't. Accedsdiver one exception to this is at the very start of an attack; at any one time, many of your proxies will be down. The rest is more or less self-explanatory.